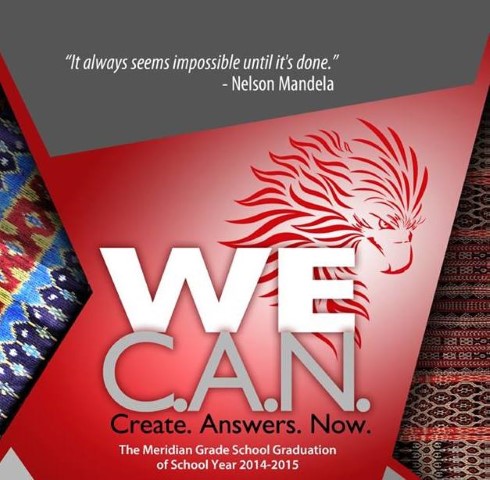 Nelson Mandela's famous quote, "Nothing seems possible until it is done" came to life last March 28, 2015, as the Grade 6 students presented their "solutionarian projects" during their graduation day, marking the end of their Grade School journey and the beginning of their High School flight.
The word "Solutionarian" is a term that Chaplain Bing Zubiri introduced to the Meridian community. She used the example of our national hero, Jose Rizal, to describe what a Solutionarian is.
A solutionarian has a heart for others. He creates a solution or an answer to other people's needs. He asks not what others can do for him. Instead, he asks what he can do for others. A solutionarian has an "It can be done!" spirit.
For the whole year, the graduating students worked on their solutionarian project which aims to help the Meridian community. The projects reflect the students' strength and giftings. Those who are musically inclined composed songs. Those who are into design and innovation created a shelf, a couch, a cubby hole, or a table and chair which can someday be used by the Meridian students. Those who are into baking created a Philippine pie that will introduce both locals and foreigners to the rich natural resources of Luzon, Visayas, and Mindanao.
Through the solutionarian projects, the students were able to learn valuable life lessons. They learned courage and teachability. One student said,
"This project taught me how to face my fears. I also learned to be teachable because I can be better by taking the advice of others."
They learned to stand up after failing. One reflection goes this way:
"Our project wouldn't work without us failing first. If we did not fail, we would not know that our project was bad, initially. Thanks to our weaknesses, we failed but got stronger. Thanks to our individual strenghts, we made a wonderful project."
They learned to persevere. Another child said,
"If we don't make use of our time well, we won't be successful. I also learned that if we know we are fighting for a good cause, we should never give up."
They learned to think of others. B are some students' quotes:
"I learned teamwork and trust. I also learned that the world does not revolve around me."
"I cannot ignore the opportunity to do something that will improve the lives of others. I have to do something! This is just the beginning. There is so much more to do."
As the graduating students presented their projects, teachers, parents and guests saw a vision of hope because these young people are willing to use their gifts and abilities to contribute to a greater purpose.
The students have taken the first step to making things possible. On the day of the graduation, as the students received their diplomas, they also declared, "We C.A.N. ! We Create.Answers.Now."
Students' "Solutionarian" Projects
Casseiopeia and Stellarz
            Inspirational Music for the Youth
Cubby Club
            A Cubby Hole for Students
Space Savers
            Space-Saving Couch for Students
Roboat
            An Educational Toy Boat for Learners and Teachers
Ergovators
            An Ergonomically Designed Chair and Table for Students
Baggo
            A Flexible Bag for Teachers
Philovators
            A Journal for Filipino Students
Pieology
            Pies that Represent Luzon, Visayas, and Mindanao
Ningas Pinas
            An Interactive Philippine Website