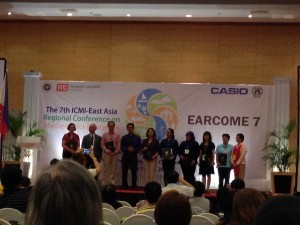 We, the math teachers, are indeed very grateful to be given the privilege to participate in the 7th ICMI-East Asia Regional Conference on Mathematics Education (EARCOME-7) that was held in Cebu City last May 11 to 15. We brought home a spree of stories, studies, and strategies to further boost our skills in our endeavor as math educators. We were taught well and we learned in every opportunity including the panel sessions, discussions and conversations, and even during meal times as we engage with other local and foreign delegates from different countries. Among the heaps of learning take-homes, our personal favorites are as follows.
¤ Create independent learners.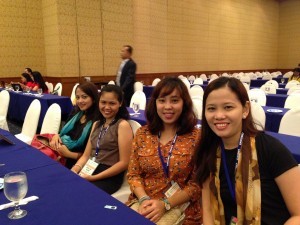 Before the opening of EARCOME, we attended a workshop facilitated by Dr. Yeap Ban Har entitled "Towards Better Mathematics: K-12 Mathematics Framework". The speaker points out that in the constructivism approach in teaching, the answers must come from the students. He encourages that the teachers leave opportunities for children to utilize their skills in clarifying, even if this means not always being "crystal clear". This approach to teaching promotes learning as making connections (Jean Piaget). Teach independence in learning.
Likewise, students learn when provided with well-planned and effective learning opportunities. Guided by the question, "How do we help students think and arrive at the answer?" we were challenged to plan and execute our lesson plans with a balance of guided and independent student-centered practices. Show trust to the students to encourage them to unleash their fullest potential – that is, in the case of mathematics, their highest level of critical thinking skills.
During EARCOME, we saw the big picture of how mathematics is taught in different schools around the globe. The "Open Approach" strategy used in Japan and Taiwan is truly amazing. In this instructional methodology, the teacher gives a problem to the students and allows them to undergo a productive struggle and collaborate with their group mates until they come up with various possible solutions and figure out which of these ones are acceptable and valid. This drives them to use their prior knowledge to solve the new given task. This gears them up to be productive, independent critical-thinkers.
¤ Learn, relearn, and unlearn.
LEARN AND RELEARN. According to a Hungarian mathematician George Polya, "It is better to solve one problem five different ways than to solve five different problems." In teaching, we may bring our students to an exploration that focuses on the process of finding solutions to math problems. Then, they may be equipped for further independent practice. Learners don't learn more just in doing more. Less IS more because from little things, big things grow.
UNLEARN. There are many traditional ways of teaching math in the Philippines, but not all cultivate the very rich ground of Mathematics education for teaching students to think – therefore keeping young minds from becoming critical thinkers. One traditional way many teachers utilize in teaching math is the use of mnemonic devices (acronyms). Although it provides learners easier ways to remember mathematical processes and procedures, it gives an implicit message to the students that they do not have the capacity to remember and to think deeper or that they do not have to.
Furthermore, in mathematics, we do not do drills. Drills are good when we want our students to learn the exact same skill, but math is a creative activity. Drill is repetition while practice is variation. Thus, we give our students practices instead of drills. Practice makes their brains alert. Practice makes them ready for bigger challenges ahead of them.
The teacher's primary roles are learning to embrace change and innovations, relearning the ways how the students process knowledge and unlearning the outmoded practices in teaching the subject.
¤ Serve our country through teaching math.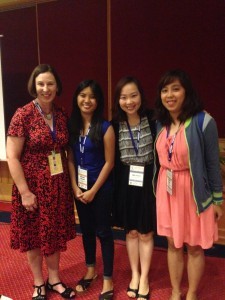 During EARCOME, we had a discussion on challenging conditions in education that the participating countries may be facing. Sadly, in spite of being showered with positive information and inspirational studies on educational systems that speak of solutions to problems, there are still some of us who are blinded by ideas of hopelessness. Hearing negative opinions, such as "Our country is not ready for K-12," from our fellow Filipino teachers broke our hearts. None of us want to get imprisoned in the poverty not only of economic wealth but of self-image, perspective, and attitude.
The nation's economic growth is directly proportional to the stability and success of its educational system. EARCOME made us realize that as we unleash the students' highest potential in mathematics as well as in the other fields, there will definitely be a higher chance that the Philippines' economic status will improve. Singapore had once and many times proven this claim. Being a country with limited resources, they were able to rise up and prove something to the world. This is because they invested so much in their main resource – manpower. We are also aware of how they have improved their math curriculum in order to raise citizens who are critical thinkers, not merely passive followers of procedures.
In this time of learning, we have seen the potential, capabilities, and gifts that every kind of people has – some apparent, some need to be watered, and even some that go beyond expectations. There are a lot more than what we can put into words in this narration, but one thing for sure: the whole learning journey in Cebu changed us. We pray that whatever God is doing in us through this encounter will be fully accomplished.
Realizing how mathematics is taught across countries, we are all the more challenged to help, guide, encourage and bring our students to the best of their abilities as critical thinkers and problem solvers. As EARCOME-7 instilled in us a deeper and wider perspective on mathematics education, it made us have a higher regard for our call as math teachers. Thus, we have to do our duty with much reverence.