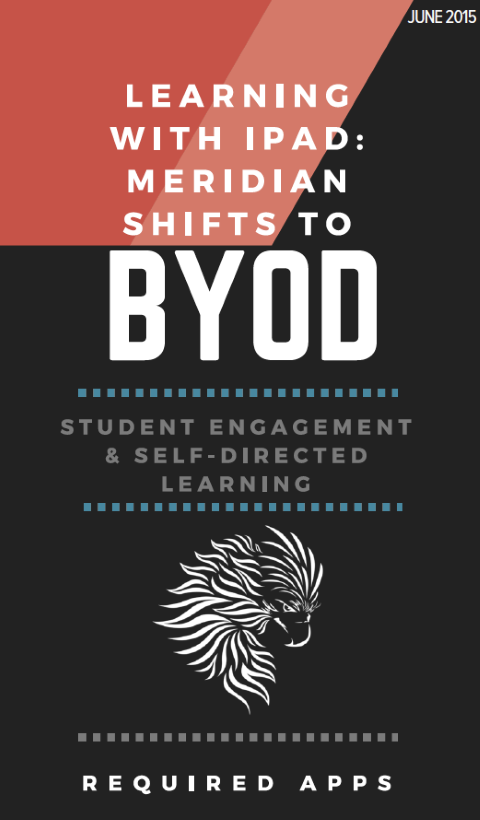 In support of Meridian's learning goals, we launched in 2013 the use of mobile devices, applications and educational websites as additional tools for learning. As digital natives, the students have significantly benefited in the use of iPad to do research, communicate with teachers and classmates, create digital art and many more. Meridian's One to One strategy (1 iPad per child) has indeed allowed our student's to build 21st-century skills, to develop critical and creative-thinking skills, to improve communication skills and to work collaboratively with peers and mentors. It has also increased their global awareness and cultural literacy. The iPad is still our best option to use for educational purposes compared to other Android-based tablets available in the market. This academic year 2015-2016, meridian shall adopt a Bring Your Own Device or BYOD policy. Instead of using a Meridian-owned iPad, a student (Grade 4-12) shall use an iPad that his/her family owns and is intended to be used primarily for educational purposes.
Related literature shows that BYOD increases engagement and encourages self-directing learning. Through the iPad apps, self-directed learning has been encouraged among students.  Each grade level has a required set of free apps to be installed in your child's iPad unit to supplement your child's learning in class.
NOW, with all these changes, questions are very much expected.
ARROWS collected some frequently asked questions among parents and guardians.
1. Are the iPad units going to be supervised?
A. The iPad units will no longer be supervised this academic year 2015-2016.
2. Can the students use iTunes?
A. Yes. Students can maximize the use of the iPads by using the iTunes for music and video projects. And also for backing up of files.
3. What if the iPad unit got broken?
A. Meridian will only fix basic, common and software issues. For broken parts and screens, we need to refer you to our partner, Power Mac Center.
4. What if the iPad unit got stolen?
A. Police report needs to be filed to make it official. A replacement iPad needs to be procured by the parents as soon as possible.
5. Can we use iPad Mini?
A. No. As of now, Meridian Art classes needs a minimum of iPad 2 sized screen for their art activities.
6. What is the minimum requirement of the iPads for school use?
A. The minimum requirement is an iPad 2 16GB. We also recommend iPad 4 16GB (and higher) and iPad Air 1 or iPad Air 2.
7. Can we use an Android Tablet or any tablets other than iOS?
A. No. As of now, since most iOS applications will not run or are not available in other non-iOS tablet devices.
8. How will the students install the Apps?
A. A list of iPad apps will be emailed to the students prior to the start of the class. Additional apps will be installed one by one. The teacher will communicate to parents their intent to add iPad apps.
9. How can we supervise or monitor the iPads?
A. For monitoring purposes, Meridian has mandated that the Apple I.D. will be of the parents. This will be also checked by the advisers.
10. I am not tech-savvy, can Meridian help me?
A. Parent's training on the "how-to's" of the iPad will be scheduled soon. Please standby for updates.
If you have further inquiries with regards to the BYOD shifting, kindly direct it to info@themeridian.edu.ph.